News
Stay Up-to-Date With Our Community
---
OUR COVID-19 RESPONSE
Safety is our number one priority at The Country House in Westchester. We are maintaining a conservative approach to reopening visitation and elements of our lifestyle as we take our responsibility for the well-being of our community members very seriously. We will continue implementing strict safety and sanitation protocols to keep our residents healthy and adhering to CDC, state and local guidelines, as well as procedures we feel are necessary for our community.
For more information about our response to COVID-19, visit Meridian Senior Living's website.
COMMUNICATION
We will communicate any changes to our policies directly with our residents and loved ones. If you have any questions, we invite you to call us directly by phone.
NEW RESIDENTS
Our community remains open to new residents, and we are offering virtual tours for those interested in learning more about our community. Let us share our policies and procedures, monthly specials, and all we are doing to keep our community safe and our residents happy.
Embracing a Health Culture at The Country House
June 3, 2021
The below article was featured in The North Salem News on page 18.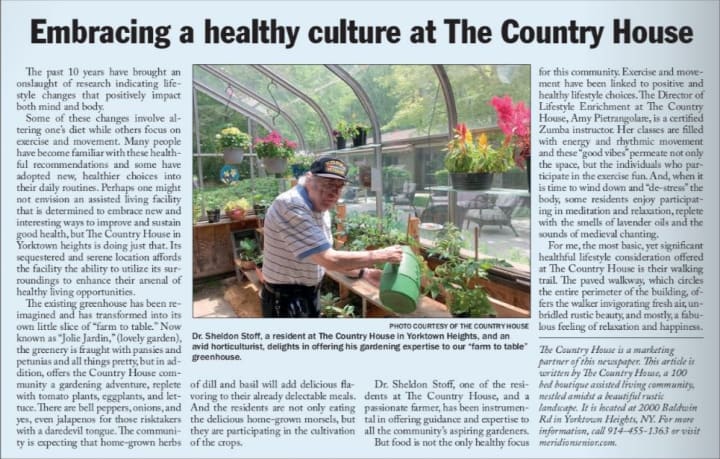 If you are having trouble viewing the image clip above, please visit The North Salem News website.